In his semi-annual testimony before the House Financial Services Committee, Federal Reserve Chairman Ben Bernanke said that although the economy is exhibiting "tentative signs of stabilization," he plans to maintain a "highly accommodative" monetary policy for the time being.  According to Bernanke, "The pace of decline appears to have slowed significantly.  In light of the substantial economic slack and limited inflation pressures, monetary policy remains focused on fostering economic recovery."
A Fed report related to Bernanke's testimony notes that policy will be "tightened" as the labor market improves, as the economic recovery begins and as pressures limiting inflation "diminish".  Bernanke also defended the central bank's moves to restore financial stability and urged lawmakers to make plans to rein in the deficit.  The Federal Open Market Committee is keeping interest rates "exceptionally low", with the benchmark lending rate in the zero to 0.25 percent range.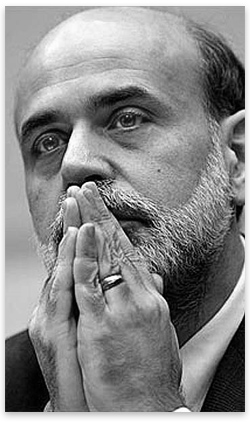 The Fed is planning to purchase as much as $1.25 trillion of mortgage-backed securities, $200 billion of federal agency debt by the end of 2009, and $300 billion in long-term Treasuries by September.  Bernanke believes that some of these assets may remain on the Fed's books for an undetermined period of time.
"Aggressive policy actions taken around the world last fall may well have averted the collapse of the global financial system," Bernanke noted. "Many of the improvements in financial conditions can be traced, in part, to policy actions taken by the Federal Reserve."
Bernanke's comments point to the enormous influence of the Fed worldwide, not least of which is countries pegged to the U.S. dollar – like Kuwait – or that claim the dollar as their currency – like Panama.
Tags: Ben Bernanke, benchmark lending rate, central bank, congress, economic recovery, economy, Federal Open Market Committee, Federal Reserve, global financial system, House Financial Services Committee, Kuwait, monetary policy, mortgage-backed securities, Panama, recession, stabilization